The Calendar page shows all bookings both "regular" and "one off" for full details please see Activities and Events pages.
The Hall is available to hire for parties, weddings and other private or corporate events (see Facilities Page). Please contact the Bookings Secretary on our dedicated phone line – 0844 500 5152 or e-mail info@bemptonandbuckton.co.uk
DANCING
There is a range of dance opportunities on offer.
Tea Dances
Perhaps the most popular regular event on the Hall calendar is the Tea Dance. ( The next one is on Tuesday 12th September). These are most enjoyable occasions, so if you haven't been along before, put the date in your diary. Your hosts, Mel and Ann, will be delighted to welcome you. So come along for the dancing, socialising in friendly company and the included refreshments. The cost is just £4.00 with all proceeds going to charity. We know you will have a great time and be made most welcome!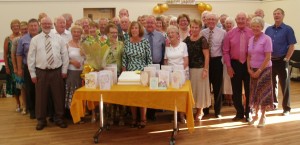 Buckton Dancers Celebrate their Golden Wedding with 50 guests at the Bempton and Buckton Community Village Hall
Want to do a "Strictly"?
We have just the thing for you. Classes in Ballroom and Latin are offered at the Hall by the Michelle Hatton School of Dancing in . The sessions are for absolute beginners and are held each Thursday evening from 6.30 – 7.30. Your first lesson is FREE! For more details and to book that free first lesson phone 01262 400 999 or 07929 859 334 or e-mail Michelle on www.michellehattonschoolofdance.co.ukGo on book your first lesson and 'start dancing!'
The 'Pop-In Centre' is open every MONDAY morning from 10.00 – 12.00 offering a friendly face and chat, tea/coffee and a toasted teacake (at very reasonable rates!) and a little gentle stimulation of the mind! Everyone from Mums or Dads with little ones up to more "mature" villagers will be made very welcome. Don't sit at home come and be amongst friends. There is plenty of room for all. If you feel a little shy about coming for the first time on your own contact us, and we will arrange to meet you at and walk with you to the Hall. If transport is a problem perhaps please let us know and we will pick you up.
'CRAFTY COMPANIONS' meet on the 1st and 3rd WEDNESDAY of each month from 1.30 – 3.30 pm. Membership and attendance has been excellent – but there is plenty of room for more! So, if you're keen to try your hand at all things crafty, please make your way along to any of our meetings, bringing your favourite craft piece with you to work at. Now that the cooler nights and darker evenings are here, many of us have a little more time to indulge in our 'crafty' pastimes, but on these Club afternoons, you get the added benefit of sharing the company of a very friendly bunch of people too. You will find yourself amongst like-minded folk and will be most welcome. Sessions cost just £1 – and this includes refreshments. We don't charge for the chat! Contact Judith Smith 01262 602 327
THE YOUTH CLUB
There is no Youth Club at present. Any parents, guardians or others willing to help in any capacity please contact the Village Hall or speak to any Committee member.
BROWNIES
A 'Brownie' Pack meets weekly in the village Hall during Term times and is open to any girl aged 7 – 11 years. They enjoy a wide variety of activities, sports, and games. There are days out and outings to places of interest, with great things to do, as well as weekends away with other 'Brownie' packs. The girls always have a great time and really enjoy themselves, so if you or your family would be interested in joining, please get in touch, using our FREE, dedicated phoneline – 0844 500 5152 or use the website info@bemptonandbuckton.co.uk
NEW ACTIVITIES
We are always pleased to hear from anyone considering starting a new activity.
Please let us know via the website e-mail (info@bemptonandbuckton.co.uk)
I.T. HELP
New laptop? Baffled by your tablet? Need help with your new phone? Give the Pop-in-Centre a try on Monday morning. Someone will probably be able to help.
BOOK CLUB & SCRABBLE CLUB
Not running at the moment. If anyone is interested in reviving either of these groups please get in touch with us via the website e-mail (info@bemptonandbuckton.co.uk)